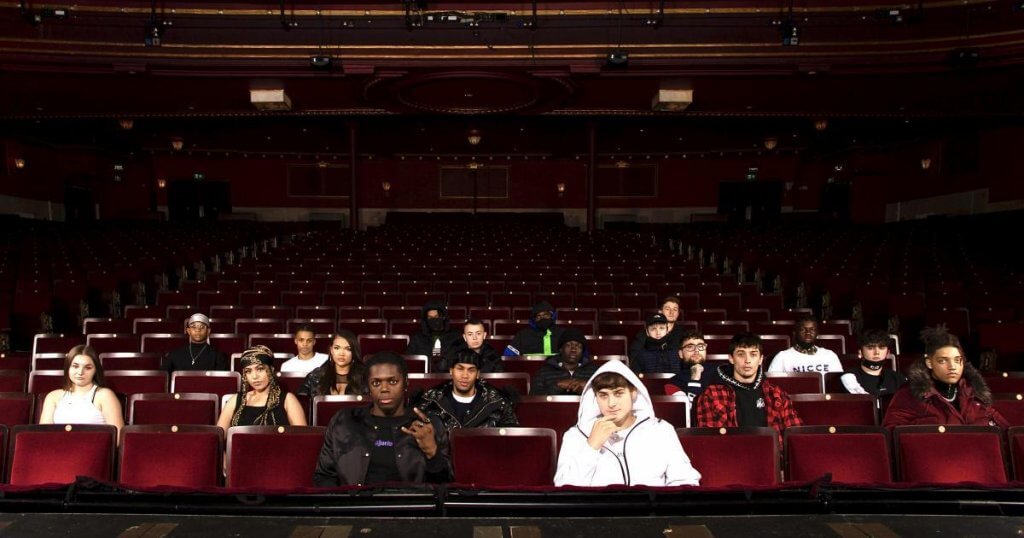 By Paige Michel Strachan
Welcome to our brand-new series, SCEP SPOTLIGHT, in which we will be shedding light on the diverse membership of the Southampton Cultural Education Partnership (or SCEP) and the brilliant work they do. Our members are organisations and individuals who have create positive change in Southampton, making arts and creativity accessible for children and young people.
First up on SCEP SPOTLIGHT, we will be profiling SCEP member SoCo Music Project. SoCo is a national charity investing in music-making projects which support children and young people aged 0-25 to develop personally and socially as well as musically. They particularly work with those who do not have the opportunity to make music because of their circumstances, where they live, or what they're going through.
Matt Salvage is the CEO and founder of SoCo Music Project. He set it up back in 2008 as a charity to share his love of music with his local community. Matt had a vision to support people's wellbeing, young and old, encouraging them to get their lives on track and help their musical talent progress. Through SoCo Music Project, Matt has had a positive impact in Southampton by providing locals with musical opportunities.
A recent SoCo project I absolutely love is Sounds of Southampton Vol 1, a compilation album put together with the purpose of showcasing the best in Rap, Hip-Hop and R&B in Southampton. I sat down with Matt (virtually of course) in his cool campervan office to ask him a few questions about his love for music, SoCo Music Project and his involvement in the album. First up, I asked Matt what music and creativity means to him in his life, along with what type of music he personally seeks out.
"Music is part of us. We need it to get through difficult times and to celebrate. Music is central in my life whether I am listening to it or making it. Creativity can help us to achieve something, challenging us so we can stretch and grow. Creativity also helps me with my mental health. Personally, I have a broad music taste. It ranges from 80s music, to hip hop, to electronic. I like music that surprises me. Music that is fresh, different, innovative – any genre."
Sounds of Southampton Vol 1. is a ground-breaking project. I asked Matt who came up with the innovative idea to create the album and to briefly explain what it entails.
"A few years ago, I wanted to set something up in Southampton, focusing on specific genres like Grime, Trap, RnB and Hip Hop. In my work as a music development officer, focusing on young people with anti-social behaviour and at risk of dropping out of education, I really was keen to bring together the talent in the city to release something. So, we set up the New Music Development Unit. In the initial stages I worked with Tyrone (Grime MC, member of dance music group FooR and founder of SO Movement), Sal Chitulu (Hip Hop MC) and Shannon B (RnB singer). Tyrone became programme manager within the New Music Development Unit and we all worked together to capture the talent in the city, curate the album and to spotlight Southampton."
SoCo Music Project played a significant role in supporting the Sounds of Southampton album. They raised money, recorded, registered, released and marketed the music, putting in funding bids to Arts Council England and PRS Foundation. SoCo didn't do it all alone though, the team worked in partnership with SO Movement to make the magic happen.
SO Movement is a brand created by Tyrone. It includes a record label to release tracks from other up and coming artists and 'Litty', a live music event company designed to provide a safe party environment for young people aged 14+. The concerts have featured well-known artists like Deno, Swarmz, Pound and ZieZie as well as many local artists.
Sounds of Southampton Vol.1 took about six months to put together from conception stage to release date. That's pretty quick if you ask me, and this is how they did it: SoCo Music Project put a call out for young people in Southampton who wanted to be included in the album. Over 100 artists applied, 24 artists were chosen and 16 tracks were made. Selection was based on identifying who was ready at the time of the release. Those who were selected attended a series of masterclasses to refine their craft and those who were not selected were also able to access development opportunities. The album was actually launched in lockdown, during spring 2020, and by summer the collective were making music videos.
Sounds of Southampton Vol.1 was officially released in December 2020 and the love it received was immense. Tyrone and Warbz have racked up millions of streams and other artists are racking up thousands! I asked Matt how he felt about this as a key member working on the album.
"Immensely proud! To know we have made a positive impact on the city is very rewarding. I feel really proud for the artists and our city. Young people can use music to express themselves. Music is cathartic and therapeutic; it makes you feel great about yourself."
The songs on the album were circulated locally, suggesting that the SoCo team must have good connections with radio stations, schools, colleges, university societies and club promoters. I asked him to elaborate a little more.
"I've got a great relationship with local media outlets like the Daily Echo and BBC South Today. I've also got a great relationship with local schools, members of the Southampton Cultural Education Partnership (SCEP) and the City of Culture Team. Members of the local community have also been nice enough to circulate the album on a voluntary basis. The album was even picked up by BBC Radio Solent, and for that I am proud."
These days, streaming platforms and social media are important in getting artists seen and their music recognised nationally and internationally. I asked Matt how important he thinks the role of streaming platforms and social media are.
"Vital. In this age we don't send CDs to a radio DJ, we share it ourselves. Don't put music out there and expect people to come to it. No one will know about your music, unless you tell people. For instance, Tyrone is on top of his game – always online – on Instagram and Tik Tok creating relevant content that people are engaging with. He's making waves, growing his followers and making his music reach far and wide. He's actually got a meeting with a label this week which is exciting news!"
YES! I can attest to this. Every day I see Tyrone on Instagram live interacting with his 200k+ fan base. No doubt, he's an influencer. The dedication is real, it doesn't go unnoticed!
Due to the global pandemic, there were a few difficulties putting the album together – but the team overcame them. Life and work generally became a lot harder, there were challenges with booking the recording studio and it was tough gathering everybody together to record the music videos. Unfortunately, the team were not able to celebrate their wins with a big launch party or perform exclusive shows. Though, due to their proactiveness in promoting the album on streaming platforms like Spotify and social media platforms like Instagram and Tik Tok, the team were able to hook in the younger audience and create influence.
I wonder what Southampton's growing music scene will look like in the next 5 years? I asked Matt what changes he would like to see in the near future.
"Good question! I see Southampton as a cultural city and I hope it will include a richer, diverse range of music programming in the future like Grime and Hip Hop, as well as the usual Rock and Indie bands. I want music to be more experimental, accessible and affordable. I would like to see double the number of venues. A renaissance for live music in Southampton. The Guildhall used to be the start and end point for touring bands, I'd like to see that return."
I asked Matt what his favourite moment was working on the album. He has so much good memories, he couldn't pick just one. He enjoyed getting the artists together at Mayflower Theatre and he was excited to see Sounds of Southampton Vol.1 topping the Digital National Chart. Matt also loved co-producing the music videos and seeing them be released.
Ultimately, Sounds of Southampton Vol.1 hit no.1 in the Hip Hop Chart. This gave the young artists a feeling of legitimacy. I look forward to seeing them making bigger moves in the music industry. Already, SoCo and the artists themselves have been presented with fantastic opportunities.
I asked Matt a very challenging question – to summarise the whole entire project in just 3 words. He said it was "VIBRANT. HOPEFUL. IMPACTFUL." Lastly, I rounded off the interview by asking Matt what advice he would give to young aspiring artists in Southampton.
"Young artists in Southampton should network and make connections. Ensure they put the work in. It may take years to make a hit song, but it will be worth it in the end. Some people are talented at song writing or singing, but they need to understand the music industry too. And to do this they need to connect."
There were many people working behind the scenes on the Sounds of Southampton Vol.1 album, from producers, to videographers, to sound engineers to artist mentors – it was a team effort. But it doesn't stop here. Matt mentioned that SoCo Music Project are currently working on releasing Sounds of Southampton Vol. 2. Yes, you heard it here first! I cannot wait to hear it!
A big thank you to Matt for taking the time to speak with me. Overall, SoCo Music Project are trailblazers, creating opportunities for young artists, proudly putting Southampton on the map.
To keep up to date with SoCo Music Project, you can follow them on Twitter and Instagram @SoCoMusic. You can also check out their website here: www.socomusicproject.org.uk.
To connect with Matt Salvage, you can find him on Twitter @SoCoMatt or Instagram @salvageMatt. You can also connect with me on Twitter at @ItsPaigeMichel. And, most importantly, don't forget to follow the SEP on Twitter and Facebook @SouthamptonCEP to find out who we will be profiling next on SCEP SPOTLIGHT!